Fix Car Scratches – Start Here
This is designed to give you a  overview to determine how to fix car scratches that are either just in the top clear coat or more severe scratches and scrapes that have penetrated to the color, primer or base metal (or plastic)
Learning how to eliminate a scratch  is really simple if you understand just exactly what a scratch on a car is in the first place.
So just what the heck IS a scratch anyway?
It's  important to understand that automobiles built after about 1990 have what is known as a "2 stage" finish.  There is a base color and a top "clear coat".  (primer under the base color)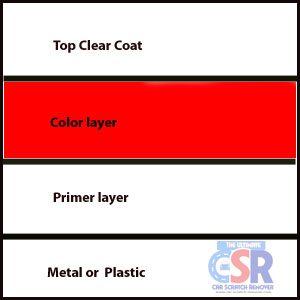 The top clear coat is much harder and designed to resist UV and environmental factors.  While the top clear coat is relatively hard it is not scratch proof and somewhat delicate.     When you permanently  remove  a "typical"  scratch  it is only in the top "clear coat".
Scratches show up white and stand out because the scratch is in the clear coat…even if it touches the base color.  When you remove scratches  that are in the top clear coat you are effectively removing a very tiny amount of the clear coat where the scratch was.  It's OK since the amount you are removing is very slight.

A scratch in the clear coat reflects light which is why it looks  so ugly.  Its similar to facets in a diamond reflecting light.
Good news…80 % of car scratches  are in the clear coat layer only.
How do I determine  what type of scratch I have?
Here is how to quickly decide how to approach the scratch on your vehicle:
Pull your fingernail across the scratch… can't feel it?  It can be removed permanently.
Just barely feel it?  Could be "borderline" and with a simple technique can be completely removed.
Definitely feel  it (or obvious scrape , chip etc)   Touch up paint will be necessary.
Typical Clear Coat Scratch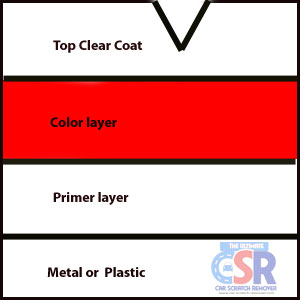 For the 80 -90% of clear coat scratches that pass the fingernail test you can remove them with the correct technique.
Steps for permanent scratch removal on a typical clear coat scratch.
The Ultimate Car Scratch Remover is a STEP- BY-STEP system -  if you can watch a few videos, you can do this!
Clean the area and inspect
Remove Scratch (Polish)
Enhance the luster of the paint (Glaze)
Seal the restored paint (professional polymer paint sealant)
Borderline Clear Coat Scratch
For some (not all!)  clear coat scratches you may need to wet sand ,
fingernail and loose key chain scratches around door handles
Dog claw scratches on a door
Metal shopping cart  grazing the side of the car
Some bird splat etchings fall under this catagory
Polish alone might not  completely eliminate the scratch.  Wet sanding your brand new car can be pretty scary… however  The Ultimate Car Scratch Remover System leaves every other product in the dust when it comes to safely wet sanding a modern clear coat.
The System features a patented  sponge called the "SafeTsand"  with replaceable 3000 grit latex "paper".  It so effective and safe that professionals use it on fresh 24hr old clear coats to remove imperfections.  So you can imagine how safe it  is when you remove a scratch on a fully cured clear coat that is 6 months or a year old.

JAW DROPPING RESULTS Right out of the box,
EVEN IF YOU HAVE NO PRIOR EXPERIENCE.
  long red line
*The Ultimate Car Scratch Remover System  (core system) is fantastic at removing the majority of clear coat scratches that you will encounter PLUS it can remove borderline clear coat surface scratches too!  Click  to get it now.
Now Just $79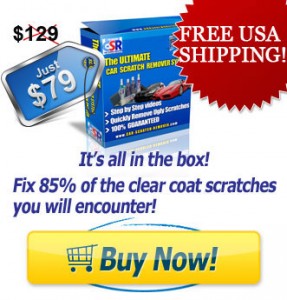 Some Scratches and  Scrapes Will Require Touch Up Paint
You might have determined you have a scratch, chip or scrape that requires touch up paint – don't worry.  You can get really awesome results at home with the correct technique… so easy it will amaze you.
Do car paint touch ups like a Pro
One of the biggest "secrets" to doing professional looking touch up paint repairs is to "surgically" apply touch up paint.  It takes VERY little touch up paint to do a repair correctly.  This is one case where more is NOT better!  This is a STEP- BY-STEP system  if you can watch a few videos and you are ready to go!
In general these are the steps for a professional looking  touch up paint repair.
(there a several optional steps  available in the kit that cover just about every type of touch up paint repair you might want to do)
Polish area
Apply touch up paint (leave it,  level it with solvent  or level it by wet sanding)
Polish (again) if necessary (remove any dulling during touch up paint process)
Enhance luster (glaze)
Apply Sealant (professional automotive paint sealant is the ultimate protection)
The Ultimate Bundle – The MOST Complete step-by-step  system in the WORLD…PERIOD!
Now Just $149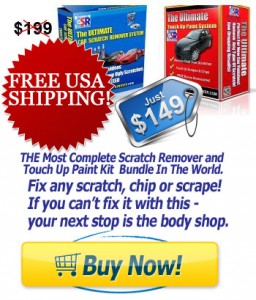 Get the Ultimate CSR System BUNDLED with The Ultimate Touch Up Paint Kit -  its all in the box! Click the BIG yellow button to get it now!
Fix car scratches easily with fantastic results, no experience no problem!
Take a look at this.