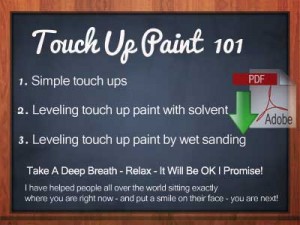 Free PDF Tip Sheet "Touch Up Paint Tricks″

I value your privacy and will never rent, sell or share your information!
The Ultimate Car Scratch Remover System™

Kitchen scrub sponge demo.  I cause the damage in front of the video camera and show you how easy it is to remove this type of serious clear coat damage!  This is a super c0mmon innocent mistake when people try to remove dried bugs off their car.
Shopping cart scratches from the mall were removed in this video.  The scratches were over 3 feet long and covered the rear door and quarter panel.  Another example of clear coat damage that can be permanently removed with the Ultimate Car Scratch Remover system.  *Patented Safe-T-Sand accessory can work magic on scratches that are within safe limits to wet sand.
Very Deep long scrape from a child's bicycle handle bar. (touch up paint technqiue)
This  involved removing clear coat scratches and doing a touch up paint technique.  Everything you need for this type of repair is in the special Upgraded Bundle with the custom touch up paint kit.   This type of damage will run minimum of $850.00+ per panel  at a body shop.  This vehicle had this deep scrape along the door and front fender so this car owner was looking at a bill of about $1700.00
NOTE:  The Ultimate Car Scratch Remover system can restore foggy yellow headlights.
In addition to being the finest car scratch remover product in the world,  one of the many benefits of the Ultimate Car Scratch Remover system is it can restore foggy yellow headlight lenses, as Donna found out!
You can pay $25+ for a headlight kit from the "other guys"  but you can do it for FREE when you own the Ultimate Car Scratch Remover System!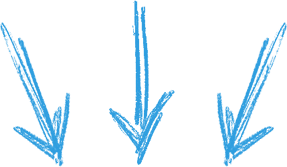 The Ultimate Car Scratch Remover System™  with upgraded CUSTOM touch up paint kit Bundle  will take care of anything you will ever encounter. Clear coat surface scratches,  deep scrapes, scratches, chips, bird dropping etching , road rash chips on your front bumper and hood all can be beautifully repaired.
*and if you don't get results you are happy with...you next stop is the body shop and a big bill.
The Ultimate Car Scratch Remover System™  original kit will handle 80% of the normal clear coat surface car scratches you will encounter.  The system is designed with professional formulas and accessories and with easy to follow videos you can remove scratches with great results the first time, right out of the box.
*if you have deep scrapes or chips you need the upgraded bundle with the custom touch up paint kit

My Promise To You, You Will Get Professional Looking Results
OR I Will Refund Your Full Purchase Price.
Unconditional, NO BS…. ONE FULL YEAR money back guarantee. If you are not TOTALLY amazed with the results, you get your full purchase price back. NO QUESTIONS NO HASSLE.
I am confident I can help you just like I have helped people all over the world get awesome results.