"...It Makes Your Ugly Car Scratches Vanish!"
Professional & Permanent Results
No Prior Experience Necessary

"Guaranteed To Work For YOU, Or You Get A No Hassle 100% Refund, for ONE FULL YEAR"
No Experience No Problem
Remove Car Scratches with Beautiful Results
Safe For All Modern Clear Coat Finishes
Step-by-Step Car Scratch Remover System - No Guess Work
Professional Results Are Guaranteed Or Your Money Back
All In One Box - Nothing Else Needed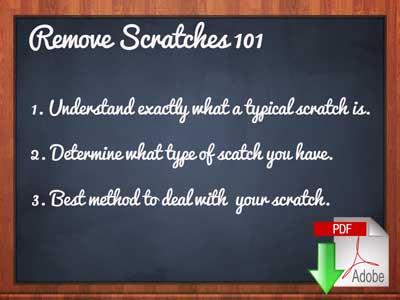 Don't Make The Most Common Mistakes.  Get "Remove Car Scratches 101″
I made a cool PDF guide for you that explains everything in detail about how to remove scratches fast & safe!  This guide will make the process crystal clear for you.  Get it now and download it instantly!

I value your privacy and will never rent, sell or share your information!
The Ultimate Car Scratch Remover System™  with upgraded CUSTOM touch up paint kit Bundle  will take care of anything you will ever encounter. Clear coat surface scratches,  deep scrapes, scratches, chips, bird dropping etching , road rash chips on your front bumper and hood all can be beautifully repaired.
*and if not...you next stop is the body shop and a big bill.
The Ultimate Car Scratch Remover System™  original kit will handle 80% of the normal clear coat surface car scratches you will encounter.  The system is designed with professional formulas and accessories and with easy to follow videos you can remove scratches with great results the first time, right out of the box.
I really prefer to let my customers tell you about their success, since at the end of the day

that's all that really matters.
Karl-
Hi Karl,
I want to say what an awesome product you have! I was definitely skeptical when I purchased it online but I knew that wouldn't be out anything if it didn't work due to the size of scratch I had on my vehicle. The local body shop wanted $2000 to fix the scratch but once I received the Ultimate Scratch Remover Kit I got to work on the vehicle. After about 15 minutes of opening the kit, both my wife and I were amazingly impressed with the results that we were seeing. I've been telling everyone about this product and the amazing job it did to my vehicle.
I've attached before and after pictures to share.
Cheers,
Duane
Lloydminster, AB, Canada
Dude... I've got to tell you this kit is fabulous!  I took out several ugly scratches on one of the quarter panels and on a couple of the doors.   I LOVE the safeT sand and I used it on quite a few scratches today. Thanks a bunch for a great product, oh and thanks for the window cleaning cloth.
Catch you later:
Ryan
PS  I attached pictures of my success 🙂
Karl,
I love your product.  I got the scratches out of my car and this weekend and we tried it on our son's 2000 Nissan Maxima headlight.  One was replaced in an accident and the other was the original lens (very yellow).  We always thought that was some sort of condensation on the inside.  The light got almost like new!  I am completely satisfied and have been recommending you to my friends.
Thank you!!!!
Donna
NOTE:  The Ultimate Car Scratch Remover system can restore foggy yellow headlights.
In addition to being the finest car scratch remover product in the world,  one of the many benefits of the Ultimate Car Scratch Remover system is it can restore foggy yellow headlight lenses, as Donna found out!
You can pay $25+ for a headlight kit from the "other guys"  but you can do it for FREE when you own the Ultimate Car Scratch Remover System!

My Promise To You, You Will Get Professional Looking Results
OR I Will Refund Your Full Purchase Price.
Unconditional, NO BS…. ONE FULL YEAR money back guarantee. If you are not TOTALLY amazed with the results,  you get your full purchase price back. NO QUESTIONS NO HASSLE.
I am confident I can help you just like  I have helped people all over the world get awesome results.